Chicken Scratch…they love it! I've been giving the girls scratch, I throw it in their yard and they go crazy for it…kinda like catnip but not… maybe it should be called chickynip…doesn't sound quite as nice! Actually it sounds dirty whoops!
Speaking of scratch….I've been blog watching since I seem to have no get up & go of my own! I found a cute project over at less than perfect life of bliss…she called this her blessing board.
I really liked the idea so I used some leftover fabric, paint and an old picture frame I was planning to get rid of. So I like to think I made it from scratch since I mainly used leftovers….aside from the lettering…not bad eh? Here is what I started the project with....
I had fun making a few of these fabric flowers....

Here is the final product...our Thankful Board, I love that there is no chalk dust...just write on the glass with a dry erase marker!
My 5yr old helped me make the list, I plan to change it out each week & involve the whole fam! (Tim's rolling his eyes)
The letters came in a set complete with a nail file to "rough" up the edges!
This project was simple and will be a great reminder to us that we have so much to be thankful for!
If you like this project you'll enjoy
Julie's blog
that I recently found!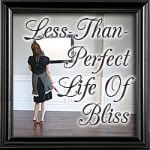 Happy Thursday!!