I would really
love
to have some Antler sheds sitting on my coffee table in the living room....or a whole wall of Antlers and maybe a Moose head or some cool horns. So I guess you could say...I have Antler Envy!
After reading an article in a Magazine last year I made my own deer head complete with Antlers found in my own backyard! This was a fun quirky project that I made LAST SUMMER...yep and I'm just now hanging it up!
But first...here are some great Antler & Horn inspirations for you to enjoy!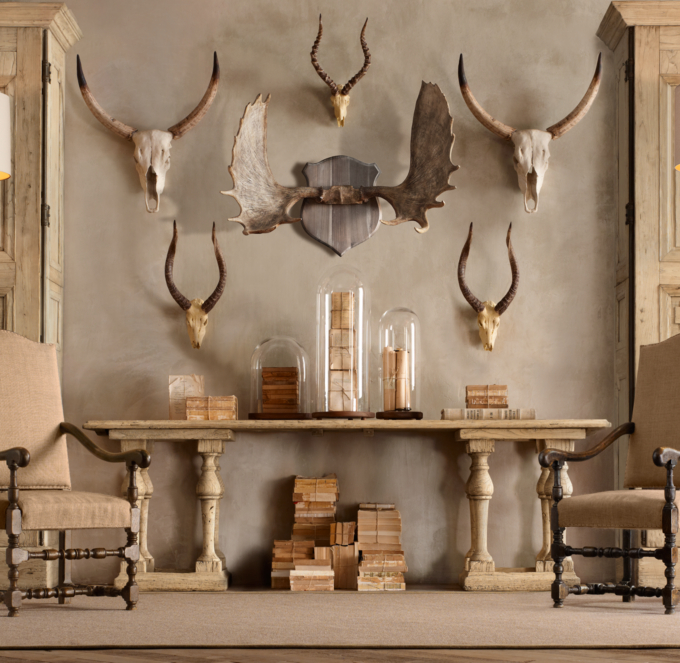 Restoration Hardware
.....and a few Bulls from Ballard Designs, I'm liking the sea grass & basket weave look!
Roadkill Antlers, donated by my neighbor ...whew boy did they smell while I boiled them!
As I boiled away, some of the unwanted hair was carried via steam throughout my kitchen it was quite the mess and stunk pretty bad, but soo worth it! Here they are on the shelf in our living room.


Reindeer Antlers are sold for only 9.99 at target can you believe it??
Okay now...my homemade Antlers are a little comical, but I think they're cute! Check out below...
The deer head is made from all kinds of creative things (junk) that I could cover with paper mache, pretty simple. How about those Antlers? Sticks off the trees in the yard!
........and here he is paired with a few family photos to complete the hallway!
P.S. for those of you wondering....I did throw away the pan that I boiled the Antlers in!!
The paper mache antler project was found in the BH&G Special Interest Fall 2010 issue!